Net-x TVMS Cable / IPTV monitoring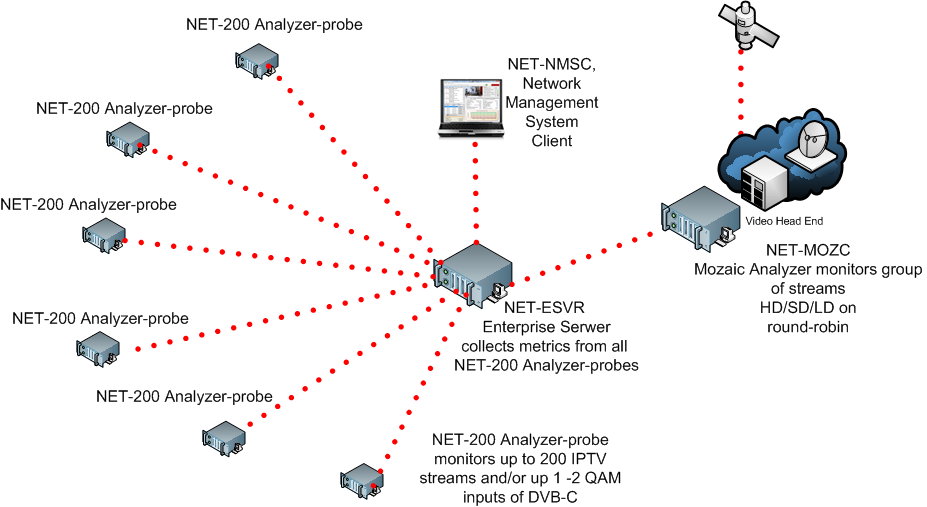 Net-x TVMS Cable / IPTV monitoring
The NET-xTVMS is the newest product in the family of NetVizion of IT Solutions. The NET-xTVMS is designed for Cable and IPTV operators to monitor their video TV offer from Headend to Regional Hubs. This 24/7 service assurance solution is based on the state-of-the-art NET-XXX series probes, to monitor 500, 300, 200 or 100 channels, NET-EVSR Enterprise Server and NET-NMSC Network Management System Client.
NetVizion Series Highlights
NetVizion IT Solutions offers several key products for telecom cable, mobile operators and carriers
NetVizion has solutions for Network Inventory, Planning and Configuration, Billing & CRM, Provisioniong and Network Rollout Management
NetVizion offers Tools & Components for Workflow Management, Reporting, Data Modeling and Migration, Failure/Outage Management, Augemented reality and Floor Plans.
NET-xTVMS Key Features
Scaleable architecture from 5 to 200 NET-100, NET-200, NET-300 or NET-500 probes adapts to small and large networks
Each NET-XXX probe monitors up to XXX IPTV and DVB-C channels
Video/audio quality of service is measured with over 30 specialized metrics, including TR101290
The NET-EVSR Enteprise Server scans each probe and collects their alarms
All Error and Alarm events have their intensity and number controlled by settable thresholds
User interfaces via NET-NMSC Network Management System Client graphical interface
Optional NET-MOZC Mozaic Analyzer located at the headend allows live viewing and image analysis of multiple video channels with scanning through all.